Setting Up USPS Real Time Shipping
This guide will show you how to set up your account with USPS account and then integrate your credentials to your store for.
Register for a USPS Web Tools Account
Visit the USPS Web Tools registration page.
Fill out the form as required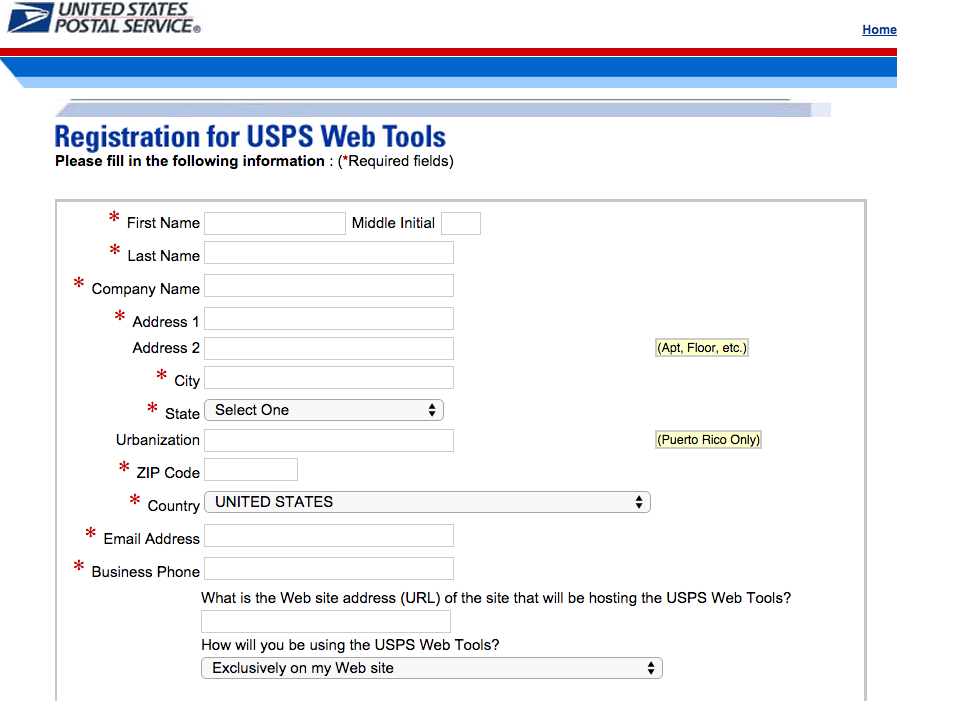 After you submit the form, USPS will create your API login account. You'll receive an email with your API account credentials.

3. Call USPS at 1-800-344-7779 or email: uspstechsupport@esecurecare.net
4. Request that USPS update the account to use the production server. Provide them with your username (provided in registration notice) and let them know you are using a third-party ecommerce system.
Configure your store to use USPS tools
Login to your admin and go to Extensions>Shipping
If United States Postal Service (USPS) is not installed click install and then edit. If it is already installed click Edit.
In the User ID field enter the Username the USPS assigned in the registration notice email.
Enter the Zip Code where the shipments will originate from (typically your home or store address).
Select the Domestic & International services you plan to use.
Set the Size, Container and choose Yes or No for machinable
 Enter the average size/dimensions of packages
Choose if you would like to display the delivery time or not
Choose if you would like to display the delivery weight
Set Weight Class to Pound
Choose a tax class (typically taxable goods)
Choose a Geo Zone (typically All Zones)
Set Status to Enabled
If you have setup multiple shipping methods for a customer to choose from on checkout you can set the number for sort order that you'd like the shipping choices to appear in. Otherwise leave blank
Leave Debug Mode set to disabled
Save your settings