Choosing a theme
Your store's theme controls all aspects of your online store's appearance. You can manage your themes from the Themes page of your admin. Themes are located under the Appearance menu in the right admin menu. If the right menu is not visible click the gear icon in the far right corner of the screen to open it.
From the Themes page, you can:
View available themes
Visit the Create A Shoppe Theme Store (Coming Soon)
Install a new theme
Customize your theme
Preview a theme
View available themes
To see all the themes available:
From your admin, click Appearance, and then click Themes.
The first theme will always be your current theme. The one that is installed on your store.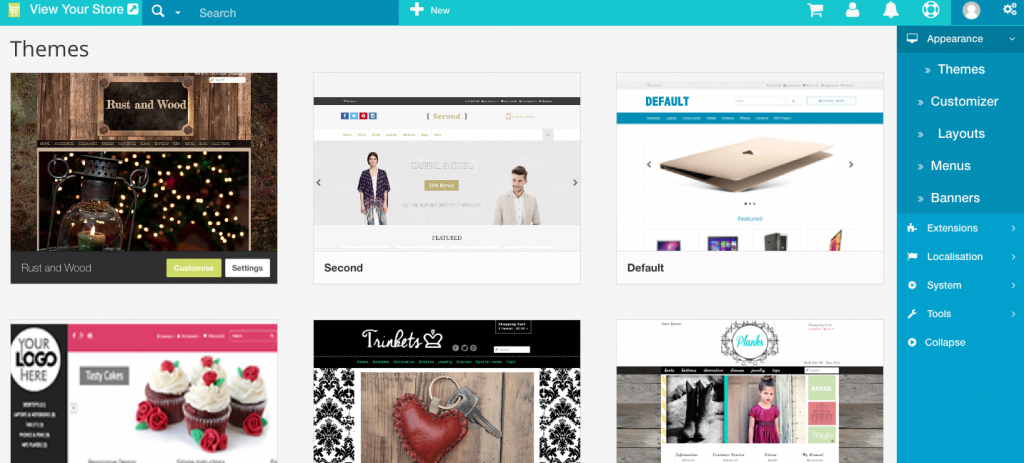 All other included themes that can be installed are shown on this page also.
Installing and previewing themes
To preview a theme hover your mouse over the theme and click the Live Preview button. The theme will open in customizer to give you an idea of how it will work and look on your store.
To install a theme on your store hover your mouse over the theme and click install
Do I lose my store content if I change themes?
No. Your store's content will be completely the same but you may need to make minor adjustments for slideshow photos or other layout items in use.
Theme Settings
Each theme as a settings page where you can set the logo display size and enter your social media accounts. Once you've installed a theme the Settings button will appear just below the theme photo.
Click the Settings button.
Choose a logo size
If you are not using a photo or graphic for your logo this will also change the text (your business name) that displays. We recommend either 33% for a smaller more narrow look and 100% if you want the text or image to be wider.
Social Media
In the Theme Settings you can also enter Social Media (Instagram, Facebook, Twitter, Pinterest) account info. Clear the text from boxes for any accounts that you do not want displayed. For example if you do not have a Pinterest account you can just delete the address and leave it blank and the icon will not show on your website.
Be sure you are using the full URL to your account. For example: https://www.facebook.com/create.shoppe/